A few months ago, Inside Housing magazine asked us to contribute to an article on social housing and climate change. We based our information on our Housing 2050 research which can be downloaded from here: Housing 2050. Here's what we wrote:
Introduction
Government has sent strong signals that they want to achieve "zero carbon emissions" by 2050.  Being a signatory to the Paris Agreement, publication of the Clean Growth Strategy and announcement of the Future Homes new build standard all show the direction of travel.
The true result of zero carbon emissions will be a housing stock that avoids the projected dangers of climate change.  For example, the Met Office project a rise in average summer temperatures of 2oC or more over the next few decades.  This could mean overheating in homes and affect particularly vulnerable people.  The Economists' Global Food Security Index shows the impact of climate change on our food supply.
Reducing carbon emissions will help reduce the impacts of climate change.  Although the actual work needed to achieve this is immense (e.g. insulating most homes), there are significant opportunities too.  For example, Government estimates that $13.5 trillion of investment will be needed.  New finance mechanisms are emerging which will help social landlords claim a share of this money.
2050 is little over 30 years away.  Since this is the typical planning cycle when it comes to calculating rents and maintenance, now is the time to make plans for the zero emissions targets.
This article covers the current state of progress towards zero carbon, the emerging financial benefits and "what next" actions.
Current situation
Our SHIFT team recently surveyed landlords representing over 240,000 UK homes.  We found that the majority of homes are in the EPC C category (EPC "A" is very low energy and "G" is extremely high energy).  Our previous research indicated that a target "mid B" average corresponds with the 80% carbon reduction which was in the Climate Change Act 2008.  This may be revised now Government has committed to 100% reduction. For now, this article assumes that 80% reduction is still a good target and the remaining 20% reduction will be from off-sets.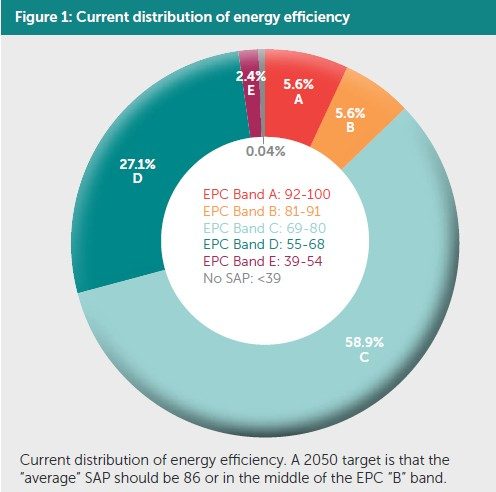 All this means that social homes are not on track to reach an average "mid B" by 2050 and very few landlords have plans for deep retrofit beyond 2030.
We found minimal action to transition away from gas as a heating source.  This is despite Government signals to decarbonise heat in domestic properties.  Barriers were uncertainty over the future technology and policy of low-carbon heat.
There was some success with Mechanical Ventilation with Heat Recovery (MVHR) systems in new build homes.  The key message was that these systems, which recycle internal heat, need to be designed, installed and commissioned by competent contractors.  Although not officially classified as low carbon heat for Renewable Heat Incentive (RHI) purposes, MVHR certainly is very low carbon as it relies on high levels of insulation in the home as well as solar energy and human activity in the home.
Perhaps unsurprisingly we found that investment in renewable electricity has generally declined due to lack of funding.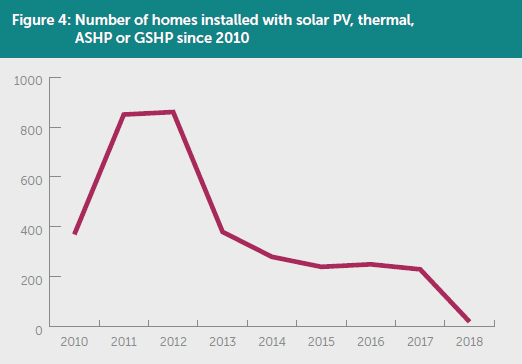 30 year plans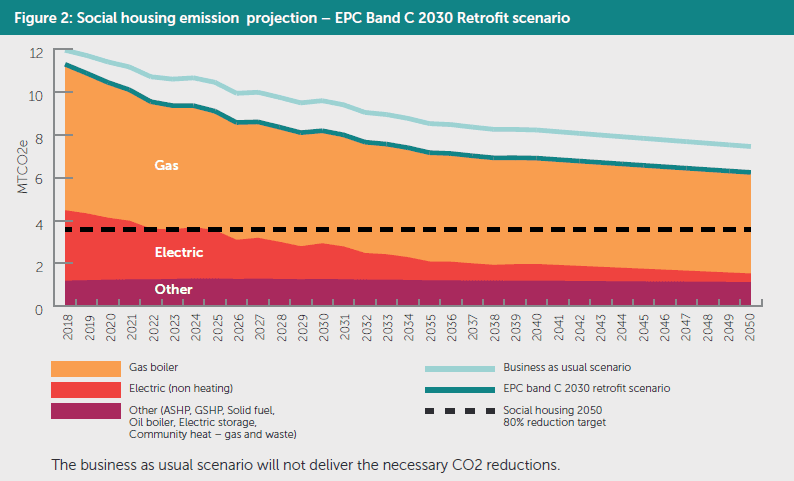 The EPC "C" by 2030 target is on the radar for some landlords because of the Fuel Poverty Strategy.  However, modelling we carried out for the research (Fig 2) shows that relying on this alone, will not bring CO2 emissions down to the safe levels.
The good news is that a combination of higher new build standards, renewable installation, deep retrofit and low carbon heat will achieve 80% CO2 reduction and landlords should start planning for this now.
The pursuit of sustainability and "Value for Money"
We found numerous examples of how pursuing energy efficiency for homes provided financial benefits to the landlord.  Examples include:
Emerging "pay as you save" schemes where the landlord charges the resident an "energy plan" in retrofitted homes – the charge is far less than the residents' energy savings so both parties are financially better off

off-site manufacture for new build driven by cost savings and improved new build standards.

landlords had renewable heat equipment installed for free whilst the supplier claimed the grant

recent Welsh rent policy has allowed social landlords to increase the amount of rent they can charge in proportion to the energy efficiency of their homes

MVHR systems leads to reduced damp and condensation which result in lower disrepair claims

install PV panels for free and then sell residents the electricity generated at a low rate
Our other research shows reduced costs, voids and rent arrears correlate with more energy efficient stock.  Other interventions result in surprising cost savings e.g. smart thermostats that increases efficiency of the heating system and also predict when a resident is at home. This is useful to avoid "no shows" at appointments.
What next?
The ideal approach is to start work now with an aim to reap the financial rewards.  This will be less disruptive than waiting for new regulations.
Existing homes:
Develop a whole house retrofit plan for each home to be retrofitted to a high level of energy efficiency aiming for an average "mid B" (SAP 86 to be exact).  Interventions may not be affordable right now, but it is essential to have a plan to prevent "dead end" technologies being installed.  Focus on fabric first, in other words high levels of insulation.
Experiment with emerging financial sources such as "pay-as-you-save".
Investigate the links between energy efficient homes and reduced maintenance costs for your own organisation.  This will help make the business case for increased energy efficiency.
Educate and upskill relevant staff in energy efficiency and new technologies and your long-term plan.  This will mean that only correct interventions are deployed.
New Homes
Ensure SAP 90 is the minimum build standard.  Anything lower and you are building a retrofit project.  This shouldn't be too difficult as most new homes are around SAP 83.
Experiment with low cost build that will result in energy efficient homes, including MVHR systems. For example, off-site manufacture results in lower emissions than standard build. (Beware: ensure new homes are at low risk of overheating using robust risk assessment methods).
Final thoughts
Social landlords must start planning now for climate change.  As well as helping to prevent extreme adverse effects of climate change, the opportunities for increased financial income and costs savings are immense.
Ultimately, following a low carbon agenda can help housing providers deliver on their social purpose by ensuring that residents have resilient, high quality homes, low energy bills and access to new technologies that facilitate a low-carbon lifestyle.
If you would like to develop ways to achieve a sustainable housing stock, please get in touch: [email protected]