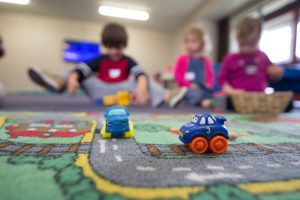 SHIFT Environment has been providing environmental reporting services for built environment clients since 2008.  Included in those services is compliance with the Energy Savings Opportunity Scheme (ESOS) regulations where we have our in-house qualified lead assessor.  This blog outlines forthcoming changes to ESOS.  But first, a bit of case study to some nurseries we've visited for ESOS purposes.
Nursery case study
Normally when we visit clients, we only see fully grown adults.  So, it was quite a change to walk into a room called "Happy Hedgehogs" and be faced with lots of little people.  They all stopped what they were doing and 10 pairs of eyes looked up at us from down below.  We hope that the sight of us carrying clipboards, volt meters and water flow meters inspired the next generation of ESOS lead assessors.
Anyway, we surveyed the following:
Heating system
Fabric efficiency
Hot water usage
Power outlet voltage
Behaviours
Lighting
Available space
The interventions we're investigating are:
Building energy management systems
Voltage optimisers
Solar PV
Heat pumps
Infrared heating
We know that a combination of the above are going to be cost effective and align with net zero plans.
Rules from 1st January 2023
The new rules, known as "phase 3" will come into force next year.  The aim of ESOS is to identify cost effective energy saving interventions that reduce energy bills.  Ultimately, they will also reduce CO2 emissions.  At a time of rising energy costs, it's perfect timing for these new regulations to come into force.
The thresholds for determining which organisations are "in scope" are largely similar to previous phases, but even if organisations aren't "in scope", what's the harm in identifying these savings anyway?
Current guidance [1] is large organisations that either:
employed 250 or more people OR
had an annual turnover in excess of €50 million (£44,845,000), and an annual balance sheet total in excess of €43 million (£38,566,700) – note that these thresholds may change to £44m and £38m respectively for phase 3
Other changes expected for phase 3 include:
although there is continued focus on energy saving, there will also be new focus on aligning plans with net zero targets
if organisations are using ISO5001 as a compliance route then they must focus on net zero
a new 5% de minimis for energy audits to replace the previous 10% de minimis
use intensity ratios to align with SECR
If you would like and/or need ESOS, or any other environmental compliance reporting (e.g. SECR, ESG) then please be in touch.
[1] https://www.gov.uk/guidance/energy-savings-opportunity-scheme-esos
[2] Photo:  https://unsplash.com/@bethbapchurch