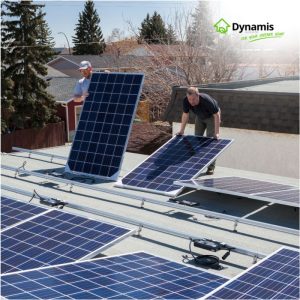 At a recent National Housing Federation (NHF) event we met with fellow "sector supplier" Dynamis.  As we know that NHF do a rigorous check on who they classify as a sector supplier we were very pleased to meet them.  We found that they are a solar PV installer firm that is big enough to have national coverage, but small enough so they keep their costs down.  Dynamis shared some of their main selling points with us and here's what they say:
Established in 2017, Dynamis is based in Warrington, Cheshire, but operates nationally. Boasting a staff of circa 30, the company has extensive experience in its team and is keen to help companies and individuals on their renewable energy adoption journey.
After delivering 1,000 solar PV and battery installations in locations around the UK, Dynamis is a specialist in the installation of high-volume domestic renewable energy installation services, always focusing on quality and end-user satisfaction.
We provide installation and consultancy services across a wide range of renewable technologies.
The company is currently delivering hundreds of domestic renewable energy installations for several high-volume Frameworks.
We have also successfully completed large domestic central heating upgrade programmes in the Scottish highlands, providing lower-income households with the ability to upgrade to efficient Air Source Heat Pump heating solutions.
We have a wide range of skills that allow installation of a range of renewable energy systems in challenging environments, with Dynamis becoming a trusted partner of several smaller Housing Associations that require more tailored services to ensure specific property portfolio requirements are catered for.
Beyond simple installation services, Dynamis is also well equipped to provide full 'start to finish' consultancy services. If a Housing Association, or private company or customer, is looking for guidance on how to modernise their property portfolio and set/achieve carbon neutrality objectives, Dynamis can help.
We are partnered with established energy monitoring providers, allowing full and continuous granular monitoring of performance, output, efficiency and achieved carbon reduction.
After recently receiving significant investment from equity partners, the company has several new innovative products due for launch. Dynamis has one core ambition, to disrupt the energy industry via unique products that provide energy efficient solutions to the masses.
We are committed to delivering high-quality work, in-house and always available customer service and developing long-term partnerships with our clients.
Contact them today, for no-obligation advice on all-things renewable energy, via:
Phone: 0333 577 5954
E-Mail: [email protected]
Website: https://www.dynamisassociates.co.uk/