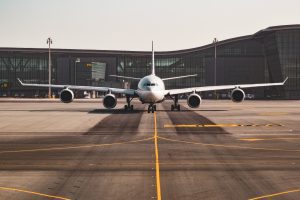 Right now, air travel contributes to global CO2 emissions and even more flights are projected.  One way to cut emissions would be to get people to fly less. But sometimes this is a hard ask for businesses that consider flying essential and, families wanting holidays away in the sun.
The alternative option is to make air travel more sustainable. This appears to be the tack taken by the UK's Department for Transport in its Jet Zero strategy. By 2040, domestic aviation in the UK will achieve net zero emissions, and all airports in England will join this zero emission journey.
One of the cornerstones of this strategy is the adoption of sustainable aviation fuels (SAF). These fuels are created from unconventional sources such as:
Used cooking oil
Plant oils
Sewage
Municipal waste (garden waste, paper, food waste, wood etc.)
Waste gases
Agricultural residue
Hydrogen
When SAF replaces traditional fossil jet fuel the strategy claims it can cut greenhouse gas emissions by over 70%. The government has issued a directive, mandating that at least 10% of jet fuel comes from sustainable sources by 2030. That's roughly 1.5 billion litres of SAF, which is supported by a £165 million Advanced Fuels Fund [1], has given companies the jumpstart they needed. To ensure this goal is met, a minimum of five commercial SAF plants are identified for construction in the UK by 2025.
Under the Jet Zero strategy [2], JustZero, an ambitious initiative, has set its sights on establishing zero-emission flight routes connecting different parts of the UK by 2030. Offsetting is also part of the plan.
Virgin Atlantic achieved a £1 million fund from competition hosted by the Department for Transport (DfT) [3]. The competition's goal was the first flight powered by SAF. Currently a successful test flight took place back in July, with full-scale SAF flight scheduled for take-off in November [4]. This will serve an example of the practicalities of SAF, for all to take note of.
Others have taken a completely distinct approach, namely electric planes, as seen with Airbus [5] and SAS Airlines [6]. It is presumed that the power source for these flights will eventually shift towards renewables.
However, these approaches have not been without their critics. Most of the criticism centres on the necessary infrastructure support [7]. Additionally, there has been backlash against the JetZero strategy for its failure to address the reduction of flight distances.
Back to earth, to get you on the right path to be more sustainable for your building portfolio, our net zero roadmap will help point you in the right direction. Do get in touch with us for more details.
Photo by Bao Menglong on Unsplash
[1]  https://www.gov.uk/government/publications/advanced-fuels-fund-competition-winners/advanced-fuels-fund-aff-competition-winners
[2]https://assets.publishing.service.gov.uk/government/uploads/system/uploads/attachment_data/file/1095952/jet-zero-strategy.pdf
[3] https://www.gov.uk/government/publications/net-zero-transatlantic-flight-fund/net-zero-transatlantic-flight-fund-competition
[4]https://corporate.virginatlantic.com/gb/en/media/press-releases/world-first-SAF-transatlantic-flight-taxis-closer-to-takeoff.html
[5] https://www.airbus.com/en/innovation/low-carbon-aviation/hybrid-and-electric-flight
[6] https://www.sasgroup.net/newsroom/press-releases/2023/reserve-your-seat-on-sas-first-electric-flight-2028/
[7]  https://royalsociety.org/-/media/policy/projects/net-zero-aviation/net-zero-aviation-fuels-policy-briefing.pdf